Hindatu Mohammed

DVM, CCRP
Dr. Mohammed received a Bachelor of Science in Animal Science from Cornell University in 1999. She spent the next four years teaching everything from 6th grade math to 1st grade drama before returning to the cold winters of Ithaca, NY and obtaining her DVM from Cornell in 2007. After that, Dr. Mohammed did a one-year small animal internship at Oradell Animal Hospital in New Jersey and stayed on for an additional year as a staff doctor. She practiced in San Francisco for three years before moving to Austin to be closer to family. Dr. Mohammed joined the practice in 2014 and purchased the clinic from Dr. Paula Baker in 2016. Dr. Mohammed became certified in canine rehabilitation through the University of Tennessee College of Veterinary Medicine. She is excited to explore ways to help improve the quality of life of her patients, and plans to focus on post surgical management and management of osteoarthritis.
In the Spring of 2022, Dr. Mohammed launched Sankofa Veterinary Project, a new nonprofit aimed at exposing high school students of color to the veterinary field.
She is so happy to be a part of this amazing community, and loves running into clients while walking in the neighborhood, taking her children to school, or shopping at the local HEB.
When not at work, Dr. M can be found spending time with her husband, four pets (three cats and one dog) and two children. Dr. Mohammed enjoys reading, traveling and sampling all of the delicious food that Austin has to offer. She nurtures her love of singing as a member of The Panoramic Voices choir.
Kerry Weisz

DVM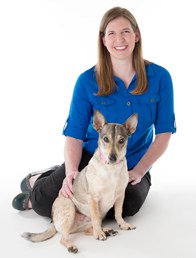 Dr. Kerry Weisz is a graduate of Oklahoma State University College of Veterinary Health Sciences. After graduation, she completed a small animal internship at The California Animal Hospital in Los Angeles where she had additional training in internal medicine, surgery, cardiology, dentistry, and neurology.

Dr Weisz joined the Allandale team in 2007. She loves that she gets to know her patients throughout their entire life and gets to be a part of the team to make sure they have a happy, healthy life. She works with her clients to create individual treatment plans for each of her patients to make sure to find the best treatments for both her patients and their owners.

She is passionate about helping create puppy and kitten socialization plans to help decrease behavioral problems and increase enjoyment of our pets.

When she is not at work, she is spending time with her husband, Kevin, their dogs,Peter and Trixie, and their cat Millie, training for a half marathon, or hiking the Austin trails, and is on a mission to visit all of the National Parks.
Stephanie Baker

DVM
Stephanie was born and raised in Dallas, Texas. She spent summers with her dad, who is also a vet, in central Arkansas. Stephanie is officially an "old dog" having graduated from Texas A& M Vet School in 1999. From there, she completed a one year equine internship in northern California, and practiced on horses in the same area for the next three years. While she loved working with horses, she most enjoyed sports and internal medicine. She transferred this love to small animal lameness and internal medicine when she moved back to Dallas and joined a multi doctor small animal practice. After ten years in Dallas at the same practice, she and her husband pursued the dream of living in Austin.
In Austin, she worked for seven years at Brykerwood Veterinary Clinic and Austin Vet Hospital for a year. She absolutely loves forming lasting, meaningful relationships with clients and pets. Trust and communication are hallmarks of her practice. She is very excited to join Allandale Vet Clinic and continue building lifelong connections. Surgery and dental are special areas of interest.
Stephanie and her husband, Jeremy, added some two legged children, Jackson and Charlie, to their four legged loves, Jojo and Scarlet, to round out the absolute wonderful chaos. She adores Austin, especially hiking and drinking a beer watching the sun go down. In her infrequent downtime, she enjoys yoga and dancing to 80's music in her living room.
Julia McDuffie

DVM
Dr. McDuffie is thrilled to be joining the team at Allandale Veterinary Clinic. She is beyond excited to establish special, unique bonds with each of her clients and their wonderful pets. She is passionate about veterinary dermatology and educating clients as a means to happier, healthier lives for their pets.
Outside of work, Dr. McDuffie enjoys spending time with her husband and their two dogs, Bowie & Scout. She loves getting outside and hiking trails, yoga, reading, listening to live music, and eating all of the tex-mex that Austin has to offer!
Dr. Julia McDuffie was born and raised in Baton Rouge, Louisiana. She received a Bachelor of Science in coastal environmental science from Louisiana State University in 2014. She then went on to complete a Master's degree in Marine Mammal Science from University of Miami. While living in Miami, she was involved with the rescue of injured and stranded marine animals while working with some amazing veterinarians. She was inspired to attend veterinary school, and graduated from Louisiana State University School of Veterinary Medicine in May of 2020.
Christina
Christina was born and raised in Austin, Texas. She has been a part of the Allandale Veterinary Clinic team since July 2008. She has had a love for animals since a very young age and appreciates being able to help care for them. She enjoys camping, hiking, and cooking. She shares her home with a mischievous orange tabby cat named Phoenix.
Anna
Anna joined the Allandale reception team at the end of 2018. Born and raised in the Allandale neighborhood, Anna is very familiar with our community and their pets. She has always had a deep love for animals, and even while getting her history degree in Portland, Oregon, she found a way to explore passion by writing her thesis on the history of the Oregon Zoo. After college, Anna came back to Austin to work at a local shelter, and now uses the tips and tricks she learned there to help our pet parents with any questions about found animals, rehoming, and lost pets. Anna has two disabled cats; Forest who has radial hypoplasia which results in short and twisted forearms, and Nick who is deaf with mild cerebellar hypoplasia which makes him a little wobbly.
Kaylee
Kaylee got her start working with animals in the summer of 2016 with a local grooming facility, then moved on to join the Allandale team in February 2020. Kaylee and her husband Joe have three fur covered children at home. Lucy, Peach, and Chewie are the lights of their life and they love being able to provide the former shelter pups a loving home. She hopes to continue to learn more about the veterinary world under the great staff and doctors here at Allandale!
Miranda
Miranda joined the Allandale Veterinary Clinic team in Fall 2006. She works predominately as a surgical and dental technician. She is a native Texan but moved to Austin following a short stint in New York City where she discovered her allergy to extreme freezing temperatures. She holds a BA in Theatre Arts hence her natural progression into the veterinary industry (in all honesty, she grew up aspiring to be a veterinarian). She is the youngest of four ridiculously overachieving siblings and has a cross eyed Himalayan mix named Casper (AKA 'Thunder Paw'). She is an avid balcony gardener where only a handful of her wards have met their untimely demise. She tentatively refers to herself as a banjo player but if she be judged by Casper's simultaneous wailing, not a terribly lyrical one.
Maggie

Practice Manager
Maggie joined the Allandale team in November 2019. She attended ACC's veterinary assistant program and has been a technician since 2014. Maggie enjoys working in surgery and lab. She previously volunteered with Animal Trustees of Austin in surgery recovery. In her free time, she does pet sitting, enjoys going to concerts and spending time with family.
Musick

Office Manager
Alyssa
Alyssa is a true Austinite born and raised in ATX. She is currently going to school for a degree in biology. She is the mother of a rambunctious boy, two puppies named Thatcher and Copper and a tortoise named Horton. She loves all animals but has a background rehabilitating sick and injured reptiles.
Katie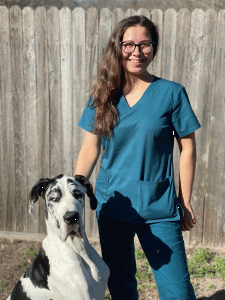 Katie is a new member of the Allandale team as of October 2020. She grew up in the DC area with a passion for animals, and followed that pathway to veterinary medicine. After graduating from Penn State with a BS in Veterinary and Biomedical Science, Katie moved down to Austin, Texas to start her career in the vet world. She started her work in the animal world by pet sitting and walking dogs in high school, moved into wildlife rehabilitation in college, and in Austin has worked in dog training and now veterinary medicine. She loves all branches of vet med, but is most passionate about preventative care for the patients she sees.
Katie lives with her boyfriend Tyler and their Great Dane Ted, and hopes to eventually add even more big dogs to her family. In her free time, she loves to be outdoors- paddle boarding, hiking, and enjoying the Austin weather at the pool.